Register
with us to start applying for DBS/CRB's straight away! - Registration is free and under no obligation
We provide an online DBS/CRB Application Service; known as eBulk.

We recommend using our online DBS Application service (eBulk) - it is secure, quick and simple to use. It is completely paperless - I.D. is verified online -copies are NOT needed

The On-line DBS/CRB Application process (eBulk)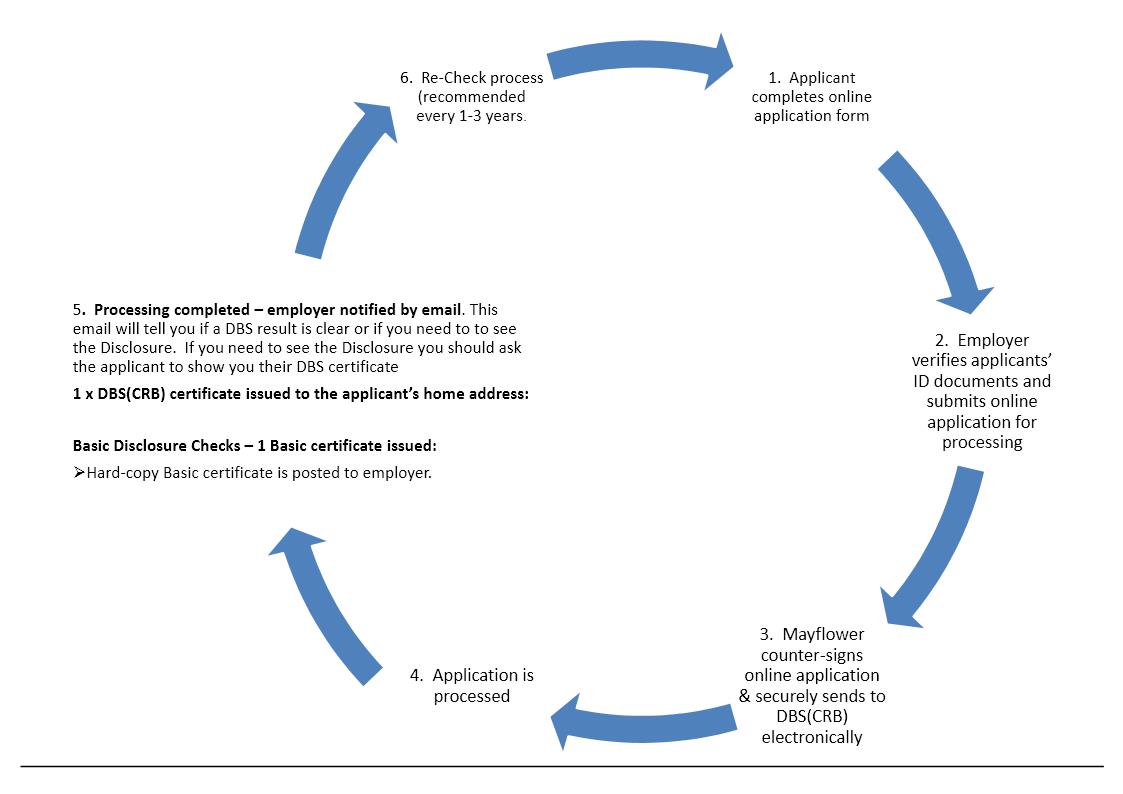 Benefits of our On-line DBS / CRB Application system
1. DBS (CRB) Checks are completed faster (on average 8 days) – many completed sooner.
2. DBS (CRB) Applications can be completed securely from anywhere with access to the web.
3. ID verification completed on-line - No photo-copying of ID documents - No posting, No postal delays.
4. You approve and submit DBS (CRB) applications to us on-line - no paper, increased processing speed.
5. You can have unlimited number of ID Checkers/Application Managers at no extra cost.
6. Multi-level access to your on-line account based on user type.
7. In-built error checking, eliminating errors and therefore delays (e.g.: ensuring mandatory fields completed, cross-referencing details from ID documents with applicant's information).
8. Email notifications of results: from 17th June 2013 the DBS will issue one DBS certificate to applicants. Our on-line system will still keep you 'in the loop' by providing integrated application tracking, and by sending you emails when each DBS check is completed, informing you if the DBS check is clear or if it has content (in which case you will need to see the applicant's certificate).
9. Integrated one-click on-line tracking of DBS (CRB) applications.
10. Integrated on-line payment option available – with added option of payment by applicants.
11. Provides a one-stop record of your DBS Applications, where you can easily view applications waiting for ID Check / in processing / completed.
12. Option where you can separate groups of applications into "Divisions". Useful for internal invoicing/budgeting purposes, and allows you to restrict ID Checkers/Managers' access so they can only view applications that are within their Division.
13. Clear Pricing – you are only charged for applications you submit for processing. Full access, unlimited users and options are provided at NO extra cost.
14. You can obtain statistics and records of your DBS applications through an integrated bespoke reporting system. Reports can be downloaded in excel or pdf. format.
15. Our on-line DBS Application system is compliant with ISO27001. It is fully secure and has been tested and approved by the DBS (CRB).
16. Environmentally friendly and cost effective - less admin, paper, postage etc.
"As the business manager, I have found your online application system easy to use. As soon as I check ID I can then approve the applications for processing. Mayflower provides a great service". School, January 2015.
"We have recently transferred from using a paper-based DBS system to your online DBS application system. It is so much better. Our only regret is that we didn't make this change sooner!" Housing Association; October 2014.
"I just wish to thank you for your help in expediting this DBS disclosure yesterday. It is very much appreciated". College; July 2014.
Are you an
activity provider / recruiting organisation requiring a single / one

DBS (CRB) Check?

No problem....we also provide DBS (CRB) Checks for for activity providers/recruiting organisations requiring a single / 1 x DBS Check. For more information, please go to www.dbsapplication.co.uk, to order a DBS (CRB) Application pack.