Our Online DBS Application process and our
Basic Disclosure Scotland Application process (eBulk)


A diagram which shows our online DBS application process and our Basic Scotland application process is below.
Further information on the Standard/Enhanced DBS application process is available on our Standard/Enhanced DBS application process page.
Basic, Standard, Enhanced DBS & Basic Disclosure Scotland online application process: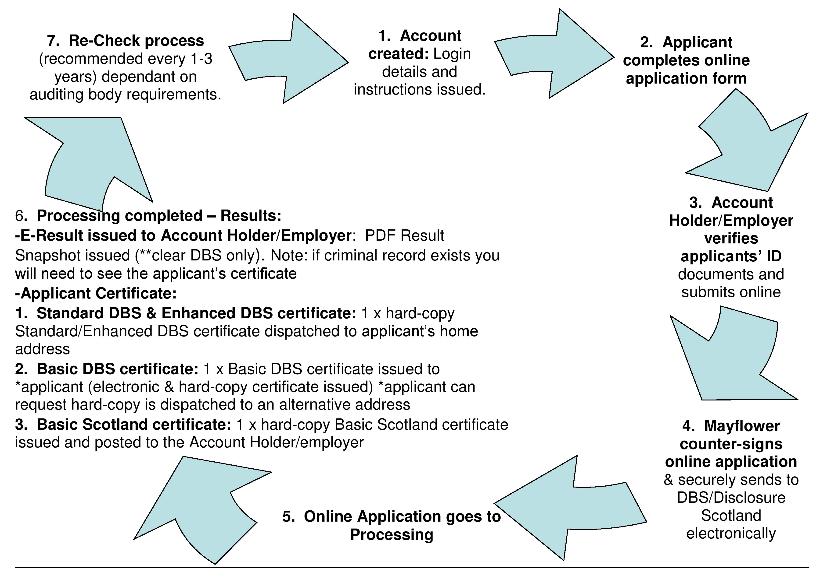 Benefits of our online DBS/Basic application system
Checks are completed fast (on average 8 days) – many completed sooner.
Online applications can be completed securely from anywhere with access to the web.
ID verification completed on-line - No photocopying of ID documents - No posting, No postal delays.
You approve and submit applications to us online - no paper, increased processing speed.
You can have an unlimited number of ID Checkers/Application Managers at no extra cost.
Multi-level access to your online account based on user type.
In-built error checking, eliminating errors and therefore delays (e.g.: ensuring mandatory fields completed, cross-referencing details from ID documents with applicant's information).
Email notifications of results: Our online system will still keep you 'in the loop' by providing integrated application tracking, and by sending you emails when each DBS/Basic check is completed, informing you if the DBS/Basic check is clear or if it has content (in which case you will need to see the applicant's certificate).
Integrated one-click online tracking of applications. *DBS only
Integrated online payment available
Provides a one-stop record of your Applications, where you can easily view applications waiting for ID Check / in processing / completed.
Option where you can separate groups of applications into "Divisions". Useful for internal invoicing/budgeting purposes, and allows you to restrict ID Checkers/Managers' access so they can only view applications that are within their Division.
Clear Pricing – you are only charged for applications you submit for processing. Full access, unlimited users and options are provided at NO extra cost.
You can obtain statistics and records of your DBS applications through an integrated bespoke reporting system. Reports can be downloaded in excel or pdf. format.
Our on-line DBS Application system is compliant with ISO27001. It is fully secure and has been tested and approved by the DBS.
Environmentally friendly and cost effective - less admin, paper, postage etc.
Roles – Online Applications
Primary Application Manager (limited to one person per organisation only)
· Same as Application Manager, plus:
· Receive Email notifications when DBS checks completed
Application Managers
· Same as ID checker, plus:
· Approve applications & submit them to Mayflower for processing
· View clear certificates online
· View progress of applications throughout processing
· Track progress applications using in-built tracking facility
· Run bespoke reports regarding Applications
· Can withdraw applications
ID Checkers
· Check applicants ID documents
· Submit application to Applicant Managers/Primary Contact for authorisation
Applicants
· Complete online DBS Applications using their assigned Organisation reference & password