There are two types of Basic Disclosure Check are available:
Basic DBS checks processed by the Disclosure and Barring Service (the DBS), available for applicants living/working or who have previously lived or worked in England and Wales.
Basic Disclosure Scotland checks processed by Disclosure Scotland, available for applicants living/working or who have previously lived/worked in Scotland.
A Basic DBS check or Basic DisclosureScotland check is a check for Unspent Convictions and can be obtained for anyone for any reason.
Mayflower Disclosure Services Ltd is an approved provider (known as a Responsible Organisation) for online Basic Basic DBS checks and Basic Disclosure Scotland checks.
We provide online Basic DBS checks and online Basic Disclosure Scotland checks to companies and individuals:
Individuals: If you are an Individual who needs a Basic DBS check or a Basic Disclosure Scotland check please go to our sister website: www.basicpolicecheck.co
Companies: To use our Basic DBS service please create an account. It is free and under no obligation. More information about our Basic DBS checking service to companies is provided below
Our online Basic DBS application process:
Our online Basic DBS application system which is secure, simple and quick to use.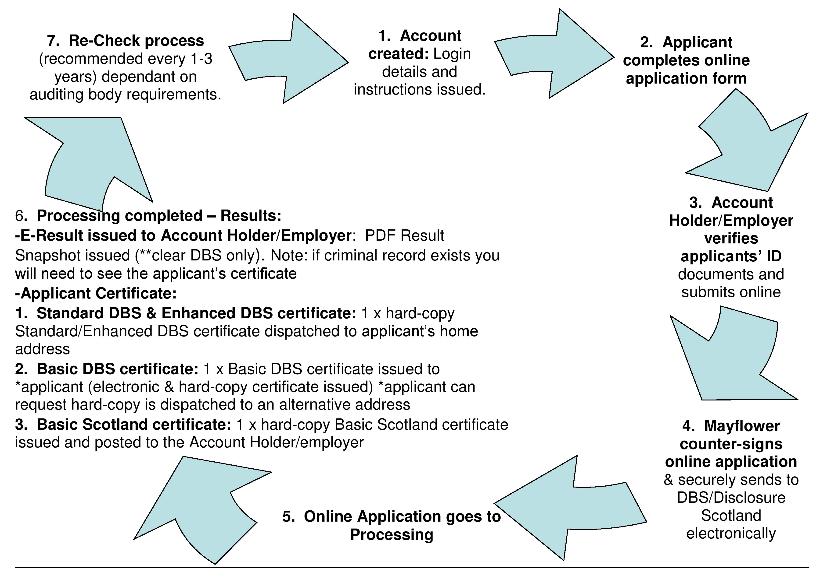 A more detailed description of our online Basic (Basic DBS and Basic Disclosure Scotland) application process that we provide to companies, is below:
The applicant (staff member) enters their details onto the system via a secure online Basic DBS / Basic Disclosure Scotland form; they can do this from anywhere with internet access.
Our system will ask them 'routing' questions to ascertain where they live/work or previously lived/worked; they will be automatically directed to the correct type of Basic Disclosure check (Basic DBS check or a Basic DisclosureScotland check).
Someone within your organisation (a nominated ID checker) will then need to check their ID and select from a drop-down list what ID you have seen – you can have as many ID Checkers as you need
The online form is then submitted to us electronically for processing.
Processing Times: No copies of ID or paper forms are needed. Many Basic DBS applications are being completed within 24 hours, however the average completion time-frame for online Basic checks is 8 days (as long as there are no queries).
E-Result Notifications: When each Basic check is complete you will be sent an automatic email from our system, informing you that the check has been completed. You will have access to an online result and the Basic Disclosure information in the form of a downloadable pdf "Result Snapshot".
Hard-copy Basic Disclosure certificates:

Basic DBS certificates: One hard-copy Basic DBS certificate is dispatched to the applicant's current home address. The applicant can request that their certificate is sent to an alternative address (i.e.: your Company address). The applicant can request this when they fill-in their online Basic DBS application form. In addition to a hard-copy Basic DBS certificate, each applicant is be able to create an online account with the DBS where they can access an official copy of their electronic Basic DBS certificate. They will also be able to give your Company permission to have access to their official online Basic DBS certificate.
Basic Disclosure Scotland certificates: A hard-copy Basic Disclosure Scotland certificate sent to us from Disclosure Scotland which we then send to you for your own records.
We are one of the largest providers of DBS checks and we have over 15 years' experience providing criminal record checks for a wide range of organisations and individuals.
Our online Basic DBS application system is DBS and Disclosure Scotland approved and has ISO27001 accreditation to ensure that your online Basic Disclosure checks are processed with speed, accuracy and integrity.
Our sole business is processing Criminal Records Checks and Employment Screening. We are experts in this field, so you don't have to be. Disclosure Applications processed through us are always given our top priority and completed as quickly as possible.
Our Prices:
Our Standard Price List is available for you to view here.
Please note, we offer discounts for companies who expect to submit 50 or more online applications per year. If this applies to you please let us know your Company name and your expected annual volume via our Contact Us form and we will send you a quote.
We believe in an open pricing policy and do not have any hidden/other costs. There are NO other charges. You will only be charged for the applications you submit for processing. We do NOT charge a setup fee, registration fee, yearly fee, error rates or any other charges not stated, without prior agreement.
Creating an account to use our services:
If you wish to use our services, please Create an Account via the Create an Account page on our website: http://dbsdirect.co.uk/create-account.php
It is FREE to create an account with us and your are under no obligation.
Your account will be set-up within 1 working day of receiving your New Account Form. On set-up, we will email send you login details and instructions on using our online Basic Disclosure application system, so you can create and submit online Basic DBS or Basic Disclosure Scotland applications straight away.
To complement your online Basic DBS checks we also offer:
Standard and Enhanced DBS checks
Basic Disclosure Scotland Checks
Employee Credit checks
External ID validation checks
New Customer? Create an account to use our services. It is FREE & under NO OBLIGATION.